Last week the biggest & official Umbraco conference, Codegarden, took place, and I have had the opportunity to not only attend as a speaker, but also to accept an Umbraco MVP Award! Let's have a coffee and look back at how it went for me! ☕
My First Codegarden
Let's start by talking about Codegarden itself first! Believe it or not, but because of the whole pandemic situation, 2022 is the first year I was able to attend Codegarden in-person! Looking back, I've been waiting for months, looking forward to the event. The call for speakers was announced, bits and pieces of leaks and rumors about Codegarden 2022 starting coming out, and we even had a LEGO version of Codegarden that was taking shape at the same time! (Check out #theSecretStage & Owain Williams, @ScottishCoder on Twitter)
Throughout my journey of using Umbraco, the Umbraco Community has always been a major part of my experience with Umbraco, but all of it virtual up until now! Meetups, Discord Calls, Chats, and other online activity, but never a physical High-Five. Being able to finally meet the people you have seen and spoken to virtually for so long was definitely the thing I was most exited for!
After sorting out the post-pandemic logistical nightmare that's called the airport, I was all set and ready to go! Would Codegarden live up to the hype? And let me tell you, it was above and beyond anything I had hoped for! All of the wonderful conversations, meetups, inspiration and overall kindness that was shared after seeing so many known, but also new faces, in-person... I miss it already as I am writing this!
Speaking at Codegarden
After the incredible feedback that I received during my first ever speaker session last year at over at the Dutch Umbraco User Group event DF21 (Which you can read all about in Let's Talk: Looking Back at DF21), I couldn't help myself and submit a session to Codegarden, to hopefully have been my first speaker session for a live audience... and it got accepted! 😱
Let me start of by saying that I was incredibly relieved that I submitted the same talk as I've done 6 months ago to DF21. Even though there was a lot of refining and new additions to add to it, it saved me from at least 80% of the potential nerves that I would have gotten on top of the already existing nerves that I had! 😂
Wednesday afternoon, the clock starting ticking, the final preparations were taken... show time! And there I was, standing in-front of an audience, in a room that was packed to the brim because of the amount of people that were interested in watching the session! It was amazing! I feel so incredible honored to be able to speak for such a large group of people that were interested in what I had to say. Not just that, but the amount of interaction I have had afterwards with those who wanted to ask questions, or simply have a chat, was mind-blowing! That feeling made all the nerves worth it, a thousand times over!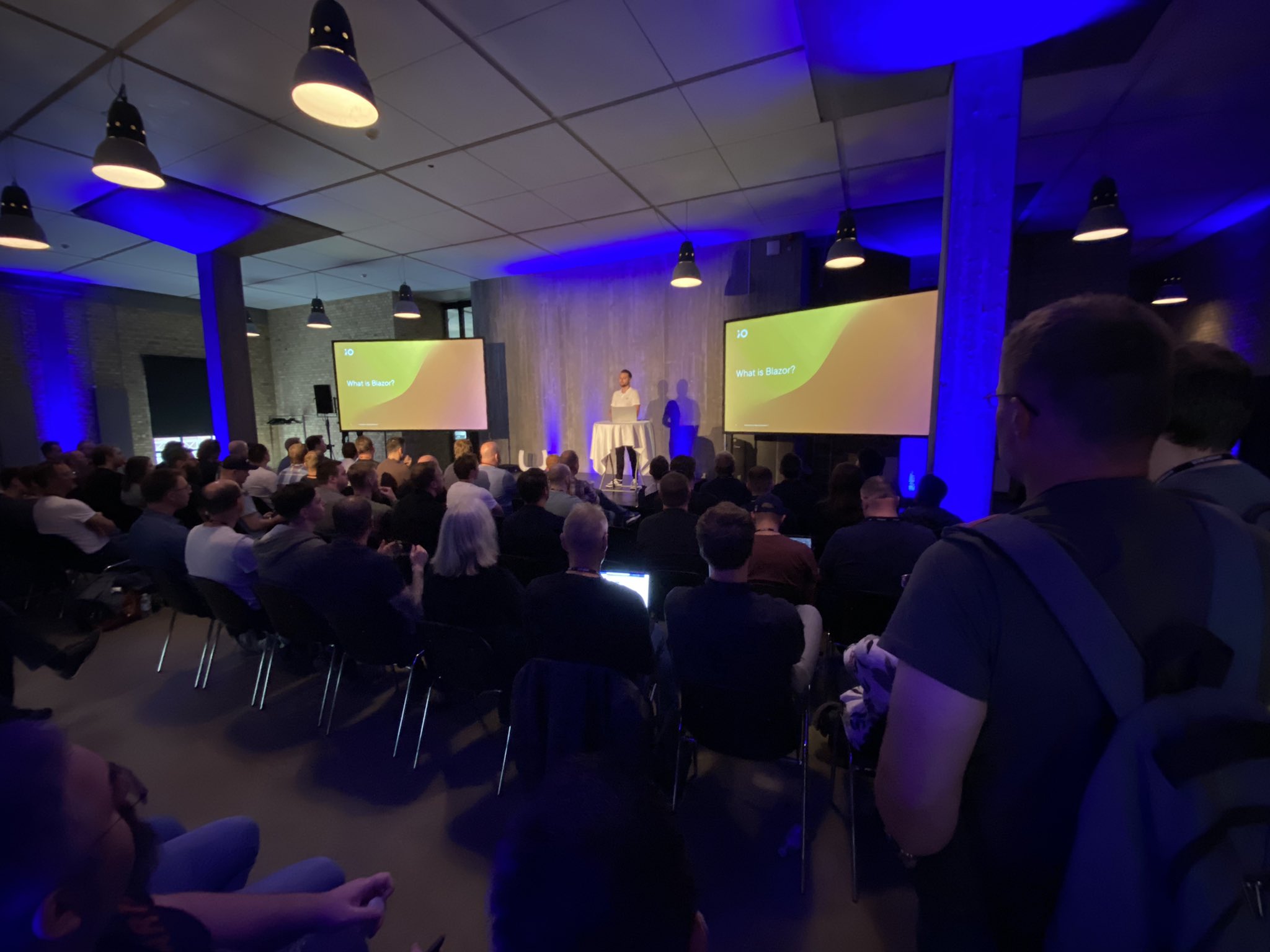 Attachment 1. Codegarden 2022 talk on Blazor & Umbraco 9
Umbraco MVP Award
The month of May turned around, and the possibility to nominate others for the Umbraco MVP Awards starting to come around. People started whispering about it on social media left and right, people encouraging other people to nominate their favorite community members, and even self-nominations!
...and then, silence, as time passed...
...
*Ping* New Email.
"Hi Corné, Congratulations on the MVP Award! 🎊"
No way... this can't be real... is this what I think it is?... it is! 😱
Never in my wildest imaginations did I expect that I would have been awarded an Umbraco MVP award, but the community seemed to think otherwise! The amount of amazing comments that were shared about me in the MVP nominations were absolutely heartwarming, and I was still in disbelieve!
Becoming an Umbraco MVP has never any of my goals. Learning, sharing, contributing, and giving back to the community has always been one of my passions, ever since I started to get to know the Umbraco community. Because of that, I cannot express my gratitude for this award enough, and I feel deeply honored to be able accept it! Thank you all very much for your support! 😍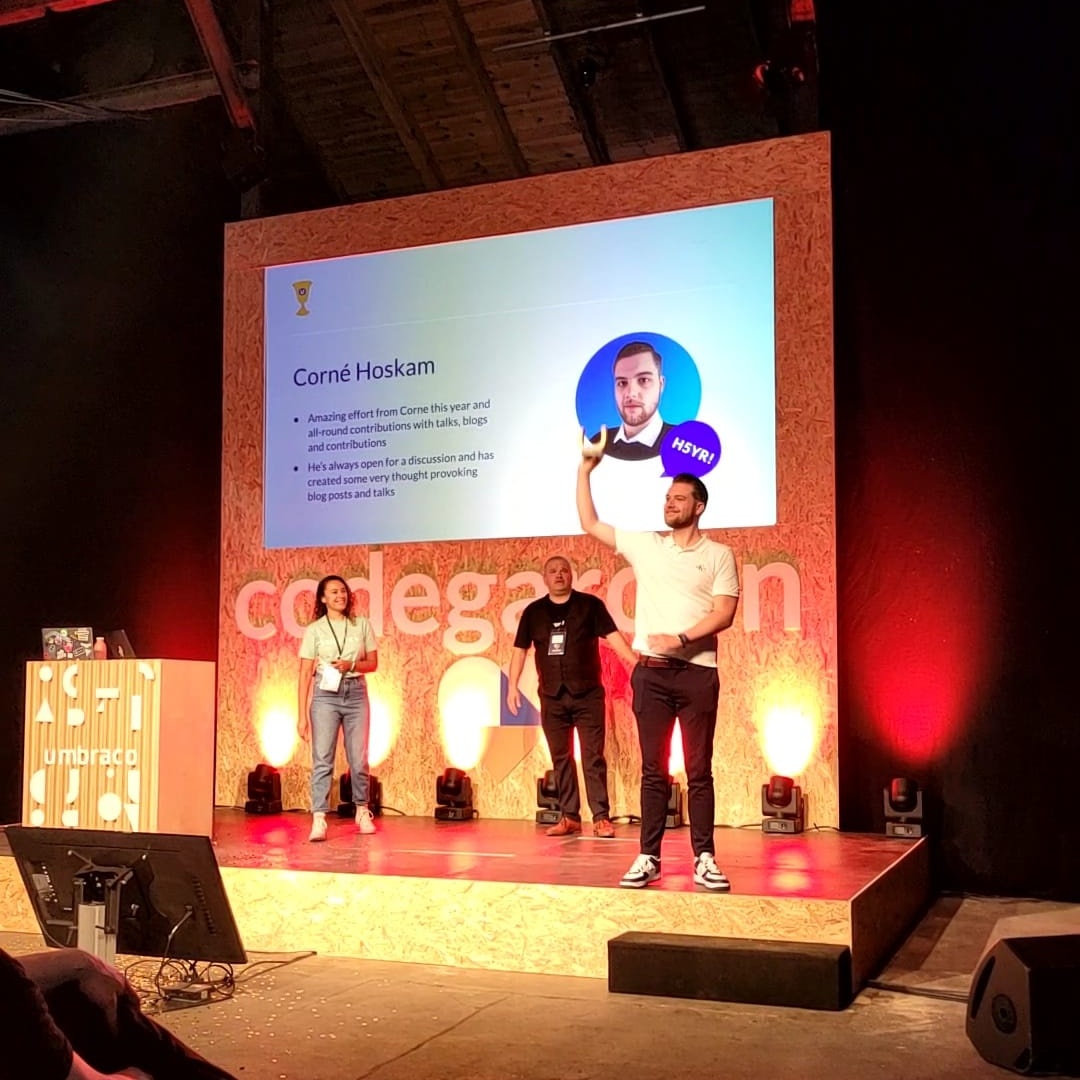 Attachment 2. Umbraco MVP Award
Final Words
Looking back at last week, Codegarden has been an amazing experience, and I cannot thank everyone enough for it. From Trine Nissen & Arnold Visser over at Umbraco HQ for organizing the event, the rest of Umbraco HQ for being incredible hosts & chats, everyone in the Umbraco community for the wonderful conversations, meetups, inspiration and overall kindness, my colleagues for having an incredibly fun week together, and iO for making it possible for me to attend Codegarden in-person!
🔊 Can't wait to attend next year's Codegarden! 🔥

And if you have any further questions regarding my session, feel free to reach out to me! Details can be found on the Contact page!